Joining the citizen science professional network
We are delighted you are visiting the Sorbonne University Alliance's citizen science portal Science Together.
By joining the professional network, you are joining a community of people committed to citizen science. The diversity of citizen science is enlightening and sharing experiences can often be very beneficial.
Participating in the portal is a way of informing the public about your participatory research project and of having your say in discussions taking place within the professional network on this interdisciplinary, broad-based platform.
Interactions are structured around the following sections in the common repository, which includes 37 skills:
See the list of skills

Methods and tools
Adapting projects to very specific/narrow audiences
Data analysis and modeling
Foresight analysis
Mapping (participatory, by drone, etc.)
Co-creation/development (data, protocols, research problems; etc.)
Database design
Sampling plan development
IT development
Interaction with local populations
Gamification
Philology, work on historical documentary sources
Inventory compilation, environmental monitoring, etc.
Conflict resolution
Data compilation and visualization
Geographic information system (GIS)
Semantic Web and creation of controlled vocabularies (thesauri, ontologies, etc.)
Engaging with networks, audiences and participants
Support and skills development of audiences
Engaging with participant communities
Project co-development with partners
Surveys
Setting up and running partner networks (local/national points of contact, etc.)
Implementation of training for various publics (community members, professionals, teachers)
Recruitment and retention of participants
Facilitation of participatory meetings
Online data visualization and analysis by participants
Mediation, communication tools and social media
Communication with policymakers (local/regional authorities, elected officials, French government, etc.), journalists, etc. on social media
Multimedia communication tools
Journalistic writing (gathering and publication of information)
Creation of educational tools
Drawing up specifications to create a website
Graphic design
Scientific mediation
Consultation method (between partners, civil society organizations, etc.)
Ethical, legal and professional conduct issues
Multi-partner cooperation
Formalities for site access (archaeological, etc.)
Personal data protection
Ethical and professional conduct issues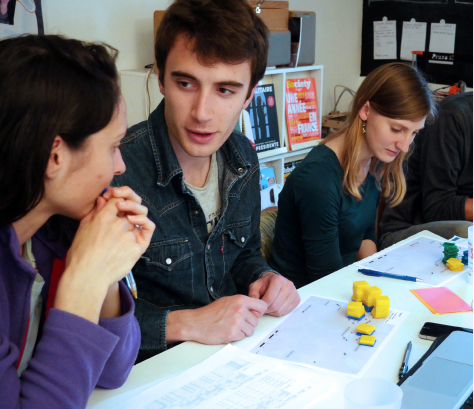 You may join the professional network whether or not you are involved in a citizen science project as a project leader or a resource person:
Project leaders develop a citizen science project in collaboration with project co-managers who play a key role either as scientific experts or network moderators.
Resource persons are not necessarily linked to any particular project, but they may have specific skills. They may be knowledgeable about citizen science, without being experts on the subject. They may contribute their scientific mediation skills to projects or provide specialist legal, technical or sociological insights.
Resource persons may also be doctoral students or post-doctoral researchers specializing in citizen science, who wish to share their thoughts and interact with network members. Whatever their skills, resource persons are not involved in developing any of the citizen science projects presented in this portal.
There are several ways you may join the professional network:
You belong to a Sorbonne University Alliance member institution.
You may join the professional network either to describe your citizen science project, or to interact with other project leaders, researchers or resource persons. Please go to the FOUNDING MEMBERS section, to see the list of SUA members.
You want to become a resource person.
By interacting with the professional network, you will be able to discuss and refine your project. You can also choose to only interact with the professional network, thus becoming a resource person whether or not you belong to the Sorbonne University Alliance.
You plan to set up a collaborative project.
You are not part of the SUA. You may also get in touch with an SUA project leader or researcher if you wish to set up a collaborative project. At the end of each project file, you will find each co-manager's contact details. Please go the PROJECT DIRECTORY section.
To join the professional network, you should:
If you have any questions, please fill in the CONTACT form to share why you are interested in joining the professional network, describing what your citizen science project aims to achieve.
We will then get back to you as quickly as possible.
Until then, we hope you have fun exploring the SCIENCE TOGETHER website.