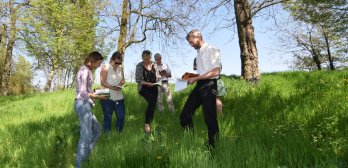 Biodiversity
Florilèges prairies urbaines
Monitoring of urban grassland flora by green space managers
Monitoring of urban grassland flora by green space managers to calculate an ecological indicator for grassland quality in connection with associated management methods.

Florilèges prairies urbaines
Placement of 10 quadrats measuring 1 m x 1 m in the center of a grassland area that is larger than 130 square meters. A survey of the plants growing inside each quadrat is conducted once a year, between June 1 and July 31.
Project created
Mainland France
Type of project : Field
Level of involvement : Once a year